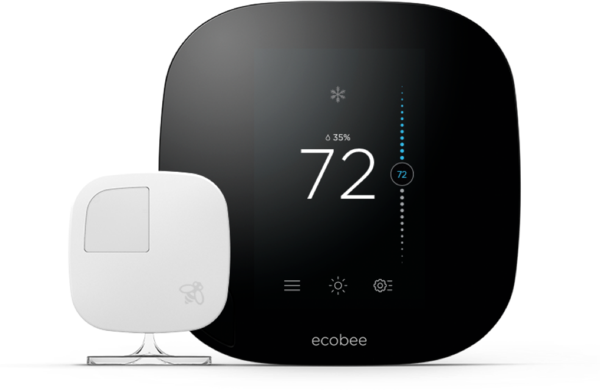 Maintain a comfortable home with Ecobee programmable thermostat, which is Apple® HomeKit enabled, so you can control the temperature remotely using your compatible device. Home IQ helps you conserve energy. Reads temperature in multiple locations solving for uneven temperatures in the rooms that matter most.
Smart, really smart
Intuitively understands when to turn on your heating or cooling equipment based on your home's unique energy profile and the weather outside, making sure you're comfortable at all times.
Knows you have a life
Senses whether anyone's home and which rooms are occupied, delivering comfort when you're at home and saving you energy and money when you're not.
Lower your energy bills
Ecobee saves homeowners an average of 23% annually, paying for itself in energy savings. Learn more at ecobee.com/Savings.
Anytime, anywhere
Lets you monitor and control the temperature in your home anytime, anywhere, on your smartphone, tablet, or computer.
Programmable Thermostat Product Offering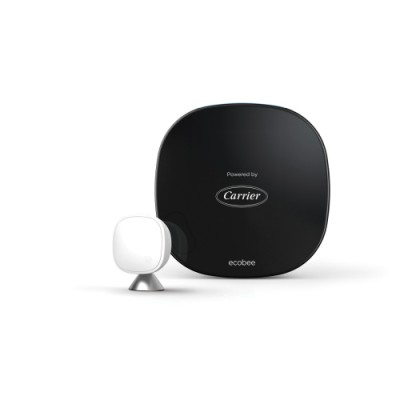 ECOBEE3 LITE PRO
View Brochure
Model Family: EB-STATE3LTCR-01
Programmable: Comfort Schedules: Set schedules to enjoy comfort while you are home, and assist with energy savings while you are away
Communicating Capability with HVAC Components: Yes
Remote Access: Control from anywhere with your iOS® or Android® devices.
Screen: 3.5in full-color touch screen
Warranty: Five-year limited warranty when purchased through and installed by a Carrier dealer
Manufacturer's Stated Benefits:
Save up to 23% on heating and cooling costs.
Energy Star® certified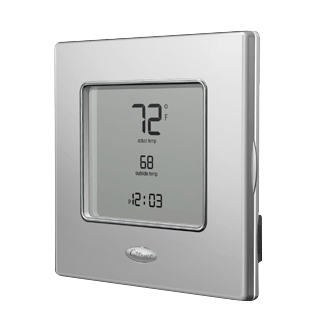 Performance™ Edge® Programmable Thermostat
View Brochure
Model Family: TP-PHP01-A
Programmable: 7-day programmable
Communicating Capability with HVAC Components: Not compatible with heat pumps. This model is configured for systems using an air conditioner for cooling.
Remote Access: No
Screen: Large, backlit LCD display
Warranty: 5-year parts limited warranty
Manufacturer's Stated Benefits:
Intuitive, on-screen prompts
Large, illuminated display shows inside and outside temperatures and time
Comes with attractive silver faceplate
Intelligent, heating- and-cooling comfort staging capable
Auto changeover between heating and cooling
Ventilation management capable
Day-at-a-glance 7-day or 5/2 (wake, away, home, sleep) programming
Vacation programming controls temperature and humidity
Smart recovery for energy savings during system ramp up periods
Fixed-schedule based filter,UV lamp and/or humidifier panel replacement reminders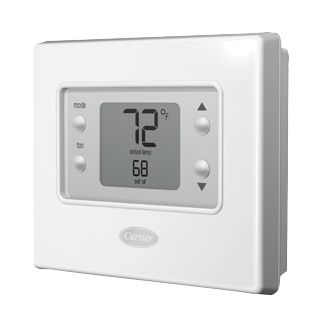 Comfort™ Programmable TOUCH-N-GO® Thermostat
View Brochure
Model Family: TC-PHP01-A
Programmable: Week / Weekend with Touch-N-Go® feature
Communicating Capability with HVAC Components: Heat Pump Compatible
Remote Access: No
Screen: Large, illuminated display
Warranty: 5-year parts limited warranty
Manufacturer's Stated Benefits:
One-button Touch-N-Go® quick-settings-change feature
Large, illuminated display
Intelligent, heating and cooling comfort staging capable
Auto changeover between heating and cooling
Fixed-schedule based filter replacement reminders