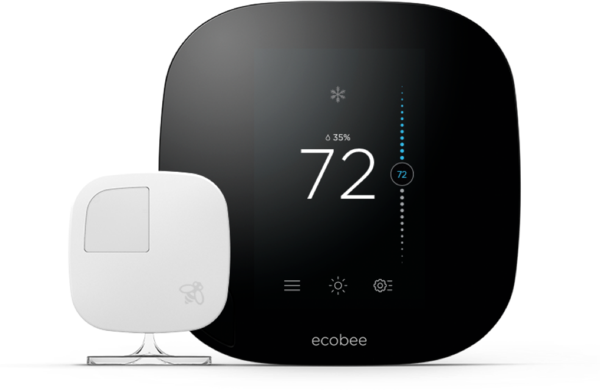 Maintain a comfortable home with Ecobee programmable thermostat, which is Apple® HomeKit enabled, so you can control the temperature remotely using your compatible device. Home IQ helps you conserve energy. Reads temperature in multiple locations solving for uneven temperatures in the rooms that matter most.
Smart, really smart
Intuitively understands when to turn on your heating or cooling equipment based on your home's unique energy profile and the weather outside, making sure you're comfortable at all times.
Knows you have a life
Senses whether anyone's home and which rooms are occupied, delivering comfort when you're at home and saving you energy and money when you're not.
Lower your energy bills
Ecobee saves homeowners an average of 23% annually, paying for itself in energy savings. Learn more at ecobee.com/Savings.
Anytime, anywhere
Lets you monitor and control the temperature in your home anytime, anywhere, on your smartphone, tablet, or computer.
Programmable Thermostat Product Offering